Filter by Category
Exercise & Outdoor Fun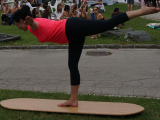 Registration Unavailable
Yoga with Jade
with Jade Pedrick
60 minutes for all levels of yoga to increase strength, flexibility, and mindfulness.  Please note:  This class is on Tuesdays, not Wed as originally printed in catalog.
#homegym
Registration Unavailable
What To Do With Milk
with Shana Therrien & Marcia Lundy

Next session starts May 11, 2021 at 6:30 pm

, runs for 1 week
Now that you're considering raising goats and interested in their milk, learn the incredible variety of things you can do with that milk! We will talk about drinking the milk raw and when heat treating (also known as pasteurizing) can be beneficial. We also make different cheeses, yogurt, soaps and lotions. We will share some of the basic recipes for all of these items and go over what you would need for supplies/ equipment from start to finish.
The location is in-person at the Anderson Learning Center in Springvale, unless school is closed, then it will be a remote class.
#SCAE