Home & Family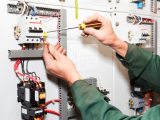 Registration Unavailable
Basic Electrical Concepts for the Homeowner (Spring 2017)
with Luke Conte

Apr 26, 2017 at 6:30 pm
Discuss basic electrical concepts/theory that would be useful to the homeowner. Discuss some basic electrical devices/wiring that would be found in a home. Discuss residential electrical safety. Briefly discuss residential generators.
Registration Unavailable
Falun Gong: Introduction (Spring 2017)
with Marcus Gale

Apr 11, 2017 at 6:30 pm
Falun Gong is an ancient, traditional Chinese practice of "self cultivation" - a way to improve mental and physical wellness through meditation and five easy-to-learn exercises. The practice is based on the universal values of truthfulness, compassion, and tolerance. This introductory class will provide a brief overview of the system, plus a demonstration of the exercises. All Falun Gong instruction is free of charge; the class fee supports York Adult Education.