Filter by Category
Cooking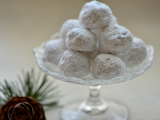 Kourabiedes (Greek Wedding Cookies)
with Dianne Duckworth

Next available session starts Dec 6, 2022 at 6 pm
These traditional Greek cookies will melt in your mouth. Some call them Christmas Cookies, Other Greek Wedding Cookies, you'll call them delicious! Dianne uses her Yaya's recipe that has been passed down for generations. These cookies are traditionally made with walnuts. About 20 years ago the Aunties wanted to switch it up and used pecans. The family has used pecans ever since. These cookies make a great gift. However after tasting them you may not want to give them away.
Baklava
with Rachael Richards

Next available session starts Apr 4, 2023 at 6 pm
This nutty, sweet, flaky Greek pastry is well worth the time and effort.  You will see that although there are many steps, this delight is pretty easy to prepare.