Filter by Category
Cooking
Appetizers Anyone? (Spring 2018)
with Pamela Sheehan

May 7, 2018 at 6 pm

, runs for 1 week
Spend and evening preparing and enjoying easy and delicious appetizers that you can serve anytime - from basketball games to Easter Dinner.
Tiered Cake Design - (Spring 2018)
with Debby Mansor

May 8, 2018 at 6 pm

, runs for 1 week
Learn how to stack cake layers one on top of the next with plastic straws and cake crumbs. Watch how to frost as you go with no waiting for cakes to firm up in your refrigerator. Learn a simple but popular icing technique called the Ombre method using one pastry tip and one color of icing. Great idea for a birthday, anniversary or wedding cake!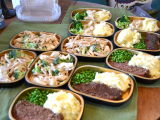 What's for Dinner? Freezer Meals! (Spring 2018)
with Mary Trigge

Apr 24, 2018 at 6 pm

, runs for 1 week
Do you want to save money on eating out? Do you have a busy life and you don't have time to cook a nice meal? You can prep and freeze for meals on the weekend for the next week. Please bring a freezer bag or freezer container with you!