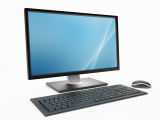 Technology Testing
with Soni Reese

Next session starts Sep 17, 2018 at 6:30 pm
1 additional session on Mar 4, 2019
...successful in the workforce, college, and life and then gives you personalized online lessons to
improv
e your skills from the comfort of your own home!
Registration Unavailable
Achieving Top Search Engine Positions
with Online with Ed2Go.com/yace

Next session starts Feb 13, 2019
...gines. That means the most important thing you can do to increase your website's traffic is to
improv
e its search engine ranking. To do that, you have to understand both the art and science of searc...