Filter by Category
Personal Finance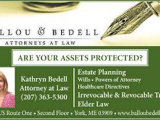 Revocable Trusts & Irrevocable Trusts – Are They Right for You?
with Kathryn Bedell, Esq.

Next available session starts Jul 14, 2020 at 6 pm

, runs for 1 week
Learn how revocable trusts can help avoid probate and protect your privacy, and how irrevocable trusts can protect your assets from nursing home or Maine Care (Medicaid) liens.  Discussion will include other strategies to safeguard assets from life events such as business failure or divorce of adult children. 
Kathryn Bedell is a law partner at Ballou & Bedell in York and has been practicing for almost 30 years. Her practice focuses on estate planning, asset preservation, and probate matters.