Filter by Category
Music & Dance
Barre with Amanda
with Amanda Gunter

Current session started Nov 4, 2019 at 6 pm

, runs for 6 weeks
1 additional session on Jan 6, 2020
Barre is used as a prop to balance while doing exercises that focus on isometric strength training (holding your body still while you contract a specific set of muscles) combined with high reps of small range-of-motion movements.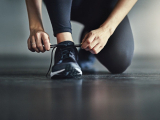 Cardio Sculpt for Women
with Lisa Robertson

Current session started Dec 3, 2019 at 3:15 pm
2 additional sessions through Feb 4, 2020
This judgement-free zone is intended to get women of all fitness levels moving and healthy. A fun, balanced and effective workout that includes short cardio bursts and weight lifting to improve muscular fitness and boost cardiovascular efficiency. Using creative and diverse exercises and equipment, this class will keep participants moving and loving it from Sept through Feb.
Encore! Encore! Sing Some More!
with Susan Frank

Next available session starts Jan 6, 2020 at 6 pm

, runs for 6 weeks
Did you love From Car Singers to Carolers? Then you'll love this encore class. If you didn't take the previous class don't worry - all are welcome!