Filter by Category
Music & Dance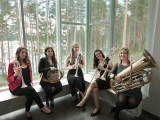 Brass for Beginners and Oldsters
with Tom Manzi

Next session starts Jan 7, 2019

, runs for 4 weeks
Bring your horn out of the attic. This class can help beginners get started and oldsters return to playing trumpet. Build your embouchure, sight reading, breathing, and confidence. Tom plays in bands at PMAC in Portsmouth: Wind Ensemble, Beginner Band, Big Band, Blues Band. He has 15 years experience playing the cornet, trumpet, and euphonium. Materials needed: Instrument, Trumpet Book 1, Essential Elements for Band From Hal Leonard, on line, bring to first class.
Pep Up Your Ukulele Playing!
with Duncan Perry

Next session starts Feb 11, 2019 at 6 pm

, runs for 1 week
So, you have been playing the ukelele for a while?! Is it time to notch up your playing to the next level? Does your strumming need a bit of a boost? Is there a playing issue that you'd like resolved? Ok, come on over to Duncan's Ukulele Clinic. You'll work on sharpening your playing skills, especially focusing on getting more rhythm into your strum while working on a song or two and having a good time!
Ukulele Mania and You!
with Duncan Perry

Next session starts Jan 7, 2019 at 6 pm

, runs for 4 weeks
Have you heard? The UKULELE is hot! Here's your chance to learn how to play it. This little, lightweight, go anywhere instrument is both verSatile and a blast to play (assuming you practice, of course). On it, you can knock out folk tunes, rock, jazz, blues, pop, country, and classical music, as well as songs grandma knows. The classes are meant for folks with no musical background, but, by the time you have finished the course you will have a skill set enabling you to know how to form essential chords and perform basic strumming and fingerpicking techniques and you will learn how to develop your own playing style. The course is taught based on using familiar songs, so you do not need to know how to read music. However, you must have a playable soprano, concert or tenor size ukulele(no baritones please) and either an electronic tuner (recommended) or cell phone tuner app. So, grab your uke and get ready for a musical adventure! Duncan Perry, our seasoned instructor, is a multi-instrumentalist who has been playing ukulele for 12 years. He is a popular and experienced teacher and performer with a passion for the ukulele.