Filter by Category
Healthcare Training
Online Registration Unavailable
Explore a Career in Medical Coding
with ed2go.com/yace .

Current session started Jun 1, 2021
This is your chance to find out what it's really like to be a medical coder. In this course, you'll learn exactly what medical coders do on a daily basis. You'll learn to use the CPT manual and the ICD-10-CM to find medical codes for any disease, condition, treatment, or surgical procedure, which will give you a leg up on other people who are new to this career. The knowledge you gain here will help you work almost anywhere in the medial field—doctors' offices, clinics, public health facilities, hospitals, labs, nursing homes, insurance agencies, or even the comfort of your own home.
As you explore a career in medical coding, you'll also explore each of the main systems of the human body—integumentary (skin), musculoskeletal, respiratory, cardiovascular, gastrointestinal, endocrine, and male and female genitourinary—outlining the medical terminology, conditions, diseases, injuries, treatments, and procedures you will see most often in each of these systems.
Along the way, you will see numerous real-world examples and coding exercises to help you begin using your coding tools in conjunction with your analytical skills to come up with just the right choices to describe any medical situation. As you explore a career in medical coding, you'll get all the hands-on experience and knowledge you need to begin your career with confidence. Check it out, because this might just be a great career choice for you!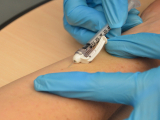 Online Registration Unavailable
Clinical Medical Assistant
with Academy of Medical Professions

Current session started Jun 15, 2021 at 4 pm

, runs for 16 weeks
1 additional session on Oct 12, 2021
Medical Assistants are responsible for a variety of medical office tasks from administrative to technical and scientific duties and must have quality human relations skills. Some of the job duties include cleaning and dressing wounds, taking blood samples, administering medications, taking vitals, preparing a patient for EKGs, obtaining a patients history, and assisting physicians during examinations. Our program provides virtual reality style classroom work as well as traditional style teaching for a blended learning experience. Practicals are performed during the program to ensure that the student has proper techniques and will be ready to pass the National Certification. Upon completion of the program, you will sit for your CCMA (Clinical Certified Medical Assistant) national certification exams through NHA . $3200 includes national certification, 6 practice exams, online study guide materials, books, resume assistance, and all other associated fees. Externships may be available in your area. Payment plans are available. Register to get the link for the livestream session.
CNA Pretest and Info Session
with Delcia Allain

Next available session starts Jul 27, 2021
1 additional session on Sep 1, 2021
Looking for a career in the medical field caring for people? Earn your certification and be prepared for a career in the healthcare field. Our instructors ensure that each person not only understands the content but can personally care for people as if they were family. Earn-as-you-learn or pay for your course options ($1200). Training includes 90 classroom hours, 20 lab hours, 70 clinical hours at the premiere care facility, Durgin Pines.
Register for one of our pretest sessions to come to the inperson assessment and orientation at York Adult Education in the York Middle School.