Filter by Category
Community Events
Annual April Fool's Day Cribbage Tournament
with Lisa Robertson

Apr 7, 2018 at 9 am
Come try your luck at our 2nd Annual double elimination cribbage tournament! Will you be able to defeat last year's champ?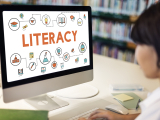 Registration Unavailable
Fun with Friends Literacy FUNdraisers
Price not
available

Jul 1, 2017
Get your friends together for a great time of entertainment - all to support our literacy programs!
Click on the links below to register for these FUN WITH FRIENDS events.
Hilltop Fun Center - Thursday, September 21, 5:45-8 pm $30
Tower Hill Botanical Gardens Day Trip - Saturday, October 7, 8 am-6 pm $59
Painting Party at Lobster Cove - Thursday, November 2, 6-9 pm $30
SkyVenture Indoor Skydiving - Thursday, January 25, 5:30-11 pm $75
SkyVenture Indoor Surfing - Thursday, March 15, 5:30-11 pm $75
Annual April Fool's Cribbage Tournament Saturday, April 7, 9 am-2 pm $25