Filter by Category
Arts, Crafts
Basic Printmaking, Stamp Making at Home
with Jaime Wing

Next available session starts Jan 21, 2021 at 12 pm

, runs for 2 weeks
Have you ever wanted to try relief printmaking but didn't know where to start? With this basic course, start making your own greeting cards, patches, t-shirts, and more! Click here for materials list. Register to get the link for the livestream session. Jamie is a Portland artist with a BFA in Printmaking from the University of Massachusetts, Amherst with over ten years of printmaking experience. A member of the Maine Crafts Association and Pickwick Independent Press, Jamie has been teaching printmaking workshops for several years.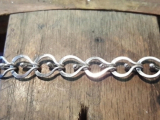 Linked Bracelet - Sterling Silver
with Alice Carroll

Next available session starts Feb 13, 2021 at 10 am
Create your own unique sterling silver linked bracelet. There will be a demonstration and plenty of work time for you to learn the basic techniques and to finish a beautiful piece of jewelry. We will cover soldering, fusing, and light forging. All metals, tools, and supplies provided. Class is located at Alice's studio in Portsmouth. Alice Carroll, who has a BFA from Maine College of Art and an MFA from Rochester Technology of Art, School for American Crafts, was an Artist in Residence at Penland School of Crafts in NC for two years. She came back to Maine in 1994 and has been teaching at Heartwood College of Art, Sanctuary Arts, and River Tree Arts.